News from 1/08 through 4/08
Come & enjoy a fun filled day with BULLDOGS!!! Leashed dogs are welcome!!
Location: Marlton, NJ.
Don't forget about the summer themed costume contest, vendors, breeder referral, breed education booth, rescue booth & more!
Updated 4/23/08:
Don't forget, this Saturday the 26th is the Bullyfest!
Schedule of events:
(times are approximate)
12 noon: HEAVENSENT'S 6th ANNUAL BULLYFEST BEGINS!
12:45: LUNCH begins
2:00: Rescue parade
2:30: Costume contest
3:15: Auctions close
3:30: 50/50 drawing
3:45: Raffle drawings
4/1/08: New Photo Showcase --
April Showers! See the April Cuties
& Submit Your Own!




Been stomping in puddles or planting flowers? We'd like to see what you've been up to! Send in a photo and have your April Showers themed bully photo added to our Showcase. Don't have a photo yet? Go take one, have fun, get creative and show off your bully!
2/29/08: New Site Feature -- Testimonials
Testimonials section is online! Check it out and if you have some comments to share please send them in! We need some more!
Heavensent gets an article in the Trend!
"The bulldog made national news this year, as it finally broke into the Top 10 list of the American Kennel Club's most popular breeds in the country.
Sometimes, such popularity can have dire consequences. Scams have popped up all over the Internet preying on people's desire to purchase their own bulldog puppies."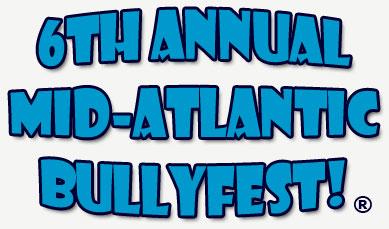 The 6th Annual/ 2008 Mid-Atlantic Bullyfest © (TM) information announced!

The 2008 Mid-Atlantic Bullyfest will be held on Saturday, April 26th in Marlton, NJ. Save the date!
More Cutter's Mill events for 08 listed!
HeavenSent Bulldog Rescue will be at Cutter's Mill, the Natural Pet Place, from 10-4. Join us for information on bulldogs, adoption and general tips and advice. T-shirts and other merchandise will be available.
February 2nd: Princeton
February 16th: Cherry Hill
March 1st: Princeton
March 15th: Cherry Hill
First Cutter's Mill events for 08 listed!
January 5th: Princeton
January 19th: Cherry Hill