News from 11/08 through 12/08
12/2/08: HeaventSent & Octo-BULL-Fest in the Courier Post!
Bulldog Rescue from Heaven
By Kevin Callahan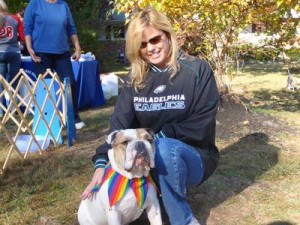 Amy Stein of Swedesbro with Cooper at BullyFest at the Holly Creek Kennel in Marlton.
(Photo by Kevin Callahan)
On a recent fall Sunday, everyone was happy at Octo-Bull-Fest: The Eagles were winning and the bulldog show was going just fine.
Click Here to Read the
Whole Article.
11/20/08: Big Doggy Bling - Great Gift Idea!
A martingale collar is a "limited slip" collar that is especially useful for dogs whose neck and head are about the same width, like Bulldogs and Greyhounds. However, they are great for all breeds & dogs of all sizes. A dog pulling backwards will not pull out of the collar because it is self adjusting, yet it doesn't have to be worn tight like a regular buckle or snap collar. At the same time, they are much more gentle and comfortable than "choke" collars.
11/20/08: BULLDOG BITES & OTHER DELIGHTS!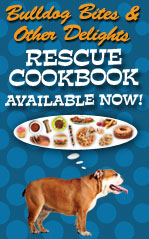 Bulldog Rescue Cookbook Available Now!

A Collection of Favorites for the Whole Family.
Gathered by Bulldog Lovers & Fanatics to Benefit Rescue.

Makes a great holiday gift for animal lovers!

$20 includes shipping.
100% of Profits go to Bulldog Rescue!
HeavenSent Bulldog Rescue
Southern California Bulldog Rescue
San Diego Bulldog Rescue
Bulldog Club of America Rescue Network



NEW CONTEST FROM PETFINDER - 25K!

Yep, we're gonna keep begging you to vote and this time to vote daily!

Things are a little different this time though -- this time we're doing it together! Rather than divide the bulldog community, it's got to be better to join our forces and hopefully divide a large prize among us to benefit several rescues!

Congrats to Southern California Bulldog Rescue for their 3rd place win in the Best Rescue/Contest! HSBR came in 4th and we are so proud and thankful of our supporters, but can you imagine if we had combined forces? We could've taken 1st place in a landslide! So, that's what we're doing this time!

Bulldog Club of America Network - wide is uniting for the PetFinder Contest!!
CALIFORNIA BULLDOG RESCUE IS OUR NETWORK REPRESENTATIVE!

Grand Prize: One $25,000 grant!
Runner Up: One $10,000 grant!
State Winners*: Fifty-four $1,000 state grants
Weekly Winners**: Eleven $1,000 weekly grants

Please vote daily - contest ends at midnight (PST) on December 14th, 2008
CLICK HERE TO VOTE FOR CALIFORNIA BULLDOG RESCUE IN SANTA ANA, CA. THAT'S A VOTE FOR HEAVENSENT TOO!!