News from 1/07 through 4/07
4/10/07: Yankee Candle Fundraiser... HUGE SUCCESS!!
We are absolutely thrilled about the response to our Spring Yankee Candle fundraiser. We won't have a total before everything is packed and shipped but we are already impressed by everyone that pitched in to sell and buy!

Most of all, congratulations to the dogs that will benefit from this group effort! Thank you from the bottom of our hearts!

The fall fundraiser isn't that far off! We'll be sure to let you know when it's about to start.
News from 1/07 through 3/07
4/2/07: Bulldog joins the Marines!
Click here to see more pics of Lou & Barb's Gunny, all dressed up for his brother's wedding day!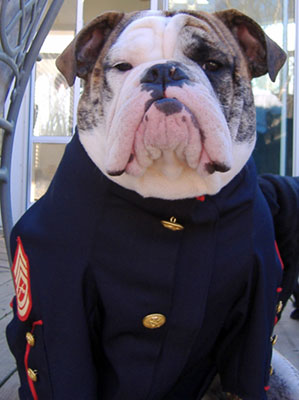 HeavenSent Bulldog Rescue will be at Cutter's Mill, the Natural Pet Place, on Saturday, March 10, 2007 from 10-6, Saturday, March 24, 2007 from 10-6, and Sunday, March 25, 2007, from 10-5. Both Bunny and Chance will be making appearances, as will several other rescued bulldogs! Join us for information on bulldogs, adoption and general tips and advice. T-shirts and other merchandise will be available.
Cutters Mill Pet Store
10 Barclay Farms Shopping Center
Route 70 East
Cherry Hill, NJ 08034
856.429.1690
http://www.cuttersmillpetstore.com