Donate while you shop!
How is that possible?
It seems too good to be true, but it really is that good and and it really is true! All you have to is join iGive.com through our special HeavenSent link. It is completely free -- no strings attached! Before you start shopping at all of your favorite online stores you just need to use your iGive shopping window or an igive.com link and, unbelievably, up to 26% of your purchase price will be matched by the stores you shop at . Then shop as usual. That money goes directly to HeavenSent Bulldog Rescue!!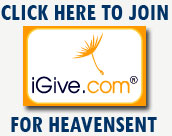 As a member you'll also recieve all sorts of offers for extra discounts and stuff like free shipping. It almost seems silly not to join! You'll feel a little bit better about splurging on those new shoes and everyone benefits!
Some iGive stores you probably already shop at:

.. and that's just to name a few! There's well over 600 stores with more added every day!