12/21/09: HEAVENSENT'S WINTER SHOWCASE NOW OPEN.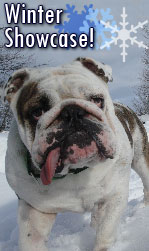 We'd like to make a special thank you to all
the volunteers, friends, families and bullies
that make HeavenSent successful.
Thanks to you, many bulldogs will be
spending this winter season with their
forever families -- safe, warm & healthy.
Please send us your photo! It can be just
your bully or your bully & family.. any friends
of HeavenSent. The theme is Christmas, Hanukkah, Solstice, New Year's, Valentine's Day .. or just a wintery scene. We'll keep the showcase up and keep adding to it all winter long!
If you'd like to have your themed bully photo added, please send it to HSrescue@aol.com. We'll be adding them fast as we can.

THE SHOWCASE CAN BE VIEWED BY CLICKING HERE.