6/1/08: HSBR Webmaster, April Robin says "hello"!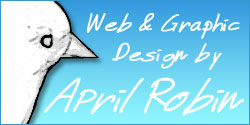 I figure it's probaby about time I introduced myself since you may see my name around here and there, especially on the blog. I am the webmaster of the official HSBR website and the
HSBR Blog.
I've been a professional graphic artist and web designer since about 1998. I currently run my own business doing contract and freelance design and web development.
The HeavenSent logo, graphics and many of the ads for our friends, such as Creek's Edge and Stein's Apothecary, are all made by me. I also designed the website and blog and manage both. These are all my personal donations and HeavenSent does not pay for any of my services. They are my gift to bulldog rescue efforts.
While I am not part of the adoption process or dog placement, if you have any suggestions for or questions about our site, please feel free to email me at ar@aprilrobin.com or comment on my blog posts.
Keep an eye on the blog for new HSBR buttons, banners and widgets for you website, blog, myspace, facebook -- you name it. Linking to HeavenSent is a great way to help promote bulldog rescue and we'd very, very much appreciate it!
That's it for now. Thanks for reading!
--April Robin