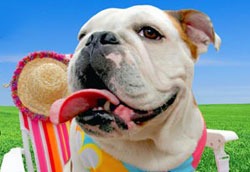 Home of the original HeavenSent Bullyfest ®.
HeavenSent Bulldog Rescue is the home of the original HeavenSent Bullyfest ©(TM)The Bullyfest is run and operated ONLY by HeavenSent Bulldog Rescue. Please check here to make sure you are participating in or getting information regarding the authentic festival.
The history of Bullyfest.
In May, 2003 the first HeavenSent Bullyfest was organized by Pam Scherzer and held on the Scherzers' property in Medford, NJ. About 65 people and 40 dogs attended & $700 was raised to help Bulldog Rescue. At that time, Pam Scherzer had been working alone in rescue with the help of long time bulldogger Helen D'Amicas.
By 2007, the Bullyfest had outgrown the Scherzer property and was held at the Wonderdogs facility in W. Berlin, NJ. The HeavenSent Bullyfest has attracted national attention and has sparked a popularity in Bulldog events that raise money for rescue throughout the country.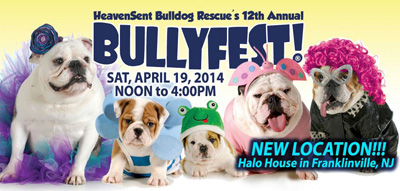 HeavenSent Bulldog Rescue's 12th Annual BULLYFEST

NEW LOCATION!!!!
Halo House
3241 Delsea Drive,
Franklinville, NJ 08322

SATURDAY, APRIL 19, 2014
NOON to 4:00 PM
RAIN or SHINE!!!!
INDOOR and OUTDOOR space!

Whether you own a bulldog or just love the breed, all are welcome. You will be surrounded by bulldogs!

Don't forget to bring a chair!

Come and enjoy a fun filled day with Bulldogs!
Leashed dogs are welcome.

ALL proceeds benefit HeavenSent Bulldog Rescue.

Admission:
Adults: $15
Kids (under 10): $5
Well-behaved, leashed dogs FREE!
DOGS MUST BE LEASHED AT ALL TIMES!

BYOC (Bring Your Own Chair)
HSBR reserves the right to refuse admission

More Info: Email: hsrescue@aol.com
To donate items: njjode@mac.com
Contact us about donating a basket or items to be auctioned off. Goody bag items also needed.
Thank you for the support!!

Admission includes:
• Food & Beverages
• Goodie Bags
• Costume Contest
• Rescue Parade
• Auctions
• Adoption Information
• Meet the Trainer

PET PHOTOGRAPHER
will be available for portraits of your pet.

EXCELLENT BULLDOG RELATED ITEMS
for sale including the NEW HSBR T-SHIRT!

Don't forget to bring a chair!

Download the printable BullyFest flyer to share with family and friends! Thank you for spreading the word!!!
http://www.heavensentbulldogrescue.com/bullyfest_2014_R4.pdf

Visit our FaceBook event page for updates and to connect with other people going to BullyFest!
https://www.facebook.com/events/717883274898498/