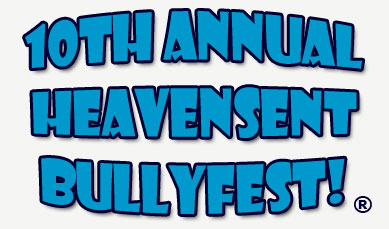 When: Sunday, April 17th
NOON - 5pm

Where: New Location!
Buena Vista Camping Resort
775 Harding Highway
Buena, NJ 08310
Donate a basket or item to be auctioned off!
HELP RAISE MONEY FOR HEAVENSENT!
Pet photographer will be available for portraits of your pet!
Vendors will be selling excellent bulldog related items!
Proceeds benefit HeavenSent Bulldog Rescue.
Your Help is Greatly Needed & Appreciated!
The Bulldogs Thank You in advance!

Whether you own a Bulldog, or just love the breed
ALL ARE WELCOME!
We expect more than 80 Bulldogs to attend.
You will be SURROUNDED by Bulldog beauty..
Admission:
Admission includes:
Food & Beverages
Goodie Bags
Costume Contest
Rescue Parade
Raffles & Auctions
Adoption Information
Meet the Trainer
The return of the popular KISSING BOOTH
DON'T FORGET TO BRING A CHAIR!
HeavenSent Bulldog Rescue is a tax-exempt 501(c)(3) organization and a New Jersey Nonprofit corporation. HeavenSent is affiliated with the Philadelphia Bulldog Club.
If you would like to make a monetary donation using your credit card, click on the "Donate" button located on the home page.

HeavenSent Bulldog Rescue.
P.O. Box 816, Medford, NJ 08055
Call: 215.514.9818 (Kara Gordon) or 856.340.9155 (Amy Stein)
Email: hsrescue@aol.com