Help Forrest learn to walk and get to Emerald City!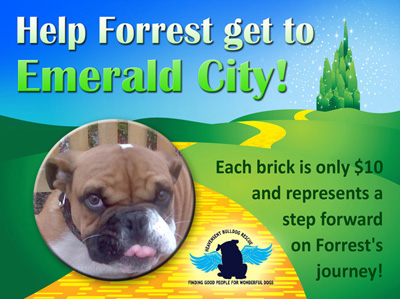 Forrest needs help so he can follow the Yellow Brick Road to see the Great Wizard of Oz in the Emerald City.
Forrest arrived in rescue in early September 2012, unable to walk and might have been euthanized if it wasn't for his foster mom (we call her Glinda the Good Witch for short) who wanted to give him every chance before making a decision that would end his life. Due to her determination (and a great deal of rescue $) we've found a treatment that is helping Forrest to walk. His problem is purely neurological - he has to LEARN things he never learned - like walking. He does NOT have spina bifida - he is NOT incontinent and in fact, he is fully housetrained.
While on his journey, Forrest needs lots of help along the Yellow Brick Road from his friends the Physical Therapist and Accupuncturist (aka the Cowardly Lion and the Tin Man). At the beginning of his journey, each yellow brick was almost impossible for Forrest to cross. It was almost as though the Wicked Witch of the West was blowing an Evil Wind on poor Forrest, holding back his progress. Glinda and HeavenSent are fighting her off, but we need your help. Forrest has begun to walk on his own, but his treatment, WHICH IS ACTUALLY WORKING, is expensive!! Without continued treatment, it will be as if the Evil Flying Monkeys are hurling dirt at poor Forrest, holding him back further from Oz, and hoping to make him fall.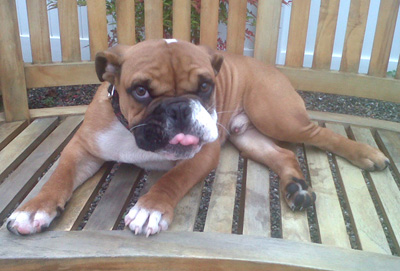 Each brick represents a step forward on Forrest's journey and is only $10. (HeavenSent is a 501(c)(3) taxexempt organization and your donation is tax deductible.) Each column represents a week of Forrest's treatments, which even with a discount, cost $150 a week. We anticipate Forrest continuing with this treatment through his adolescence - at least until he's a year old. The goal of this fundraiser is to provide Forrest with weekly treatment for the next 15 weeks.
As various Munchkins and other good elves contribute to Forrest's journey by pledging to buy a brick or a week, we will fill in that brick or week with the donor's name (or whatever information the donor would like). When the road is fully paved, there will be a drawing from the names of those helping, and the person whose name is pulled will receive a beautiful basket from HeavenSent Bulldog Rescue as a thank you from Forrest. We will post videos from the day we got Forrest and updated vidoes as he makes progress. Please help us help Forrest to follow the Yellow Brick Road to the magical land of Oz where miracles happen - and Forrest can walk.
Get your brick now - or a whole week!!

Forrest THANK'S YOU in advance!

Use our PayPal button

or
send your check or money order to:

HeavenSent Bulldog Rescue
PO Box 8695
Turnersville, NJ 08012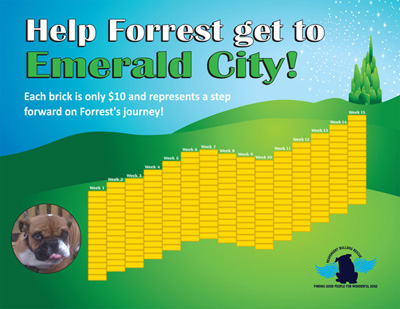 CLICK HERE to see a PDF of our progress!
(pdf will be updated daily)
HeavenSent Bulldog Rescue is a tax-exempt 501(c)(3) organization and a New Jersey Nonprofit corporation. HeavenSent is affiliated with the Philadelphia Bulldog Club.
HeavenSent Bulldog Rescue
P.O. Box 8695, Turnersville, NJ 08012